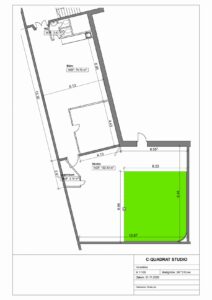 Live Stream,
Virtual and Hybrid
Conventions
your professional
broadcast studio
in central Berlin
The AGM or product presentation has been in planning for months, the hybrid convention is set to go – and after a few minutes into your live stream YouTube decides to just…stop. Sound familiar? Or that slightly annoying delay. What about that reverb, where is that coming from? And how do you make it stop?
Especially in the last three years the industry has witnessed an unprecedented rise in need and practicality of hybrid conventions and online streams. It didn't always necessarily go very smoothly.
At C-Quadrat, we like to compare live shows with a passenger flight. In order to 'pilot' the live stream you need a certain amount of experience and preparation to tackle all the potential technical hiccups in advance and be best equipped for the potential unknowns, too.
For over 10 years we've been streaming live from our studio to the internet or other TV channels. Our team is made up of experienced technicians, DOPs and camera operators, TV directors, video mixers and set managers who gained their experience at talk shows and other live programming in TV.
We stream your conference, presentation, training course or talk show live to the online platform of your choice – with fast and scalable fibre optic broadband and with confidence.
This is how we ensure the smooth running of your production. A successful show is primarily defined by strong dramaturgy and high entertainment value. We engage directors, writers and the best suited hosts for you and together work towards refining all aspects of your show.
Absolutely the first address for all our upcoming productions. We felt very relaxed and comfortable, the team was top notch and the spacious studio as well as the enormous greenscreen are awesome. Many thanks and till very soon!

– Alina Vanessa
Showreel 2023
Take a look at some of the past live streams clients have produced in our studio.
The studio is well-situated in the heart of Berlin and in the popular district of Kreuzberg. Famous sights such as the governmental buildings and Potsdamer Platz are in close reach and the studio is only minutes' walk from various public transport links. Situated within a typical Berlin "kiez", our neighbourhood offers you delicious food and refreshments with international tastes and flavours and a relaxed working environment.
On-site parking available.